"Master Soren" earning his MXJ -- a prince among Frenchies, looking the part
Photo by Steve Surfman, graphic silliness by Dick Saunders
MACH2 ARCHX UAGII UAGI UCD Daulokke's Une Valliant Grosse Silver-ROM CD CD-H RAE2 XF MXP MJP FFX-AG FFX-AP NFP PD2 PG1 PK1 TBAD
C-ISA C-ISLA C-BAA RL3-AOE RL2X-AOE RL1X-AOE UAG-HIT CGC TDI
55 Titles!!!



2011....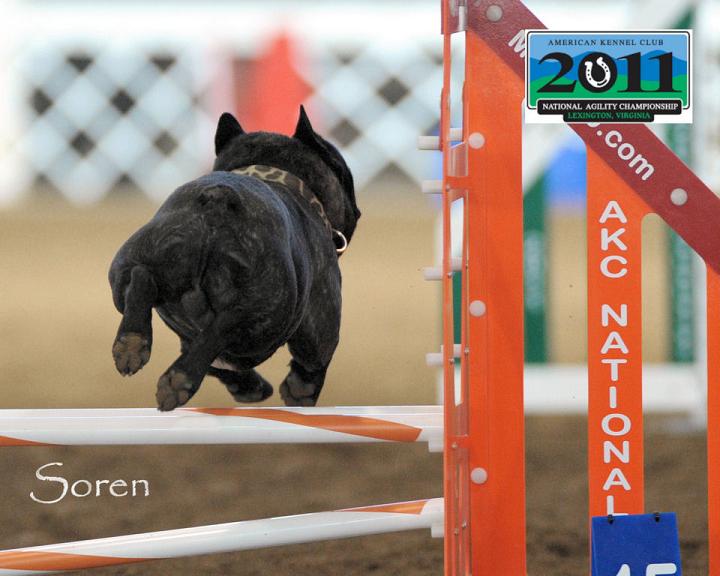 Soren becomes the first French Bulldog ever to qualify for and compete at the AKC Agility National Championships. Photo by Stewart Event Images ©



2010....
First French Bulldog MACH2 Title in AKC Agility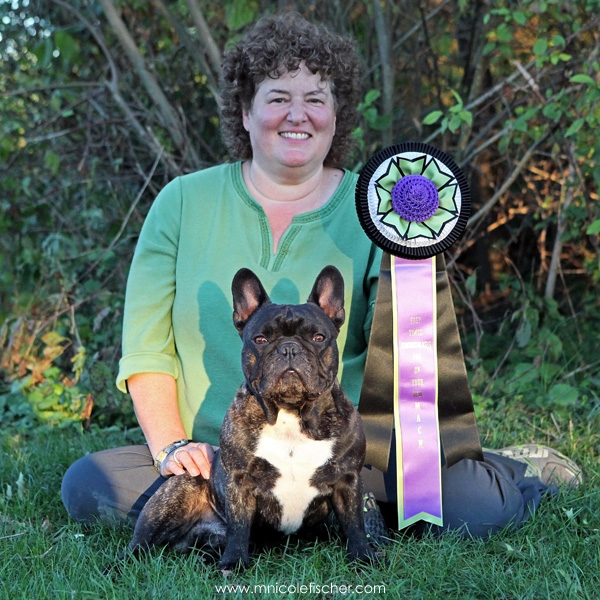 View Soren's MACH2 Slideshow with photos and video of his MACH2 run
First French Bulldog Excellent FAST Title in AKC Agility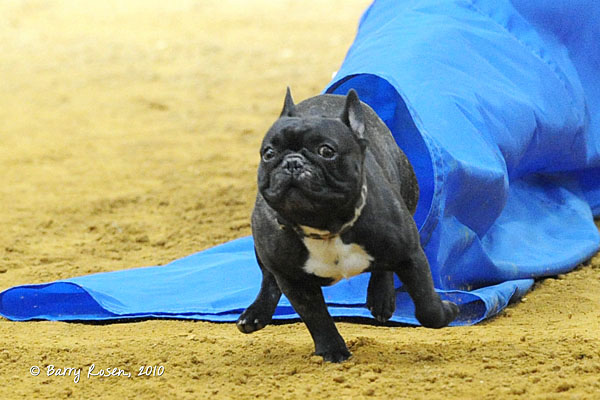 Over 140 Masters Standard Legs and over 150 Masters Jumper Legs



2009....
Top ranked Frenchie for the 2009 AKC Agility Invitational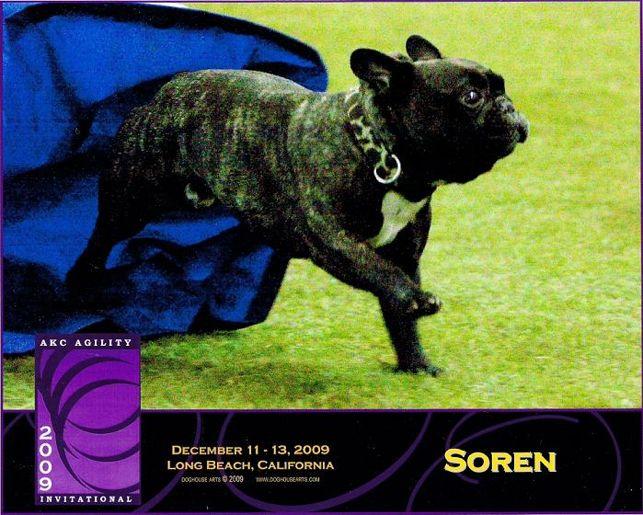 FBDCA award for being the first Frenchie MACH.
Soren gets his Silver ROM award from French Bulldog Club of America!
Soren is on the cover of Clean Run Magazine, October 2009 issue!
Soren earns his AKC Open FAST and USDAA Performance Dog I titles
July 4, 2009, Winchester VA:
Soren becomes the first Frenchie in history to earn a Master Agility Championship (MACH)!!!
Video of Soren's MACH Run
January 1, 2009, Soren earns his UKC Agility II title with 2 clean runs and 2 first places. And takes High In Trial!!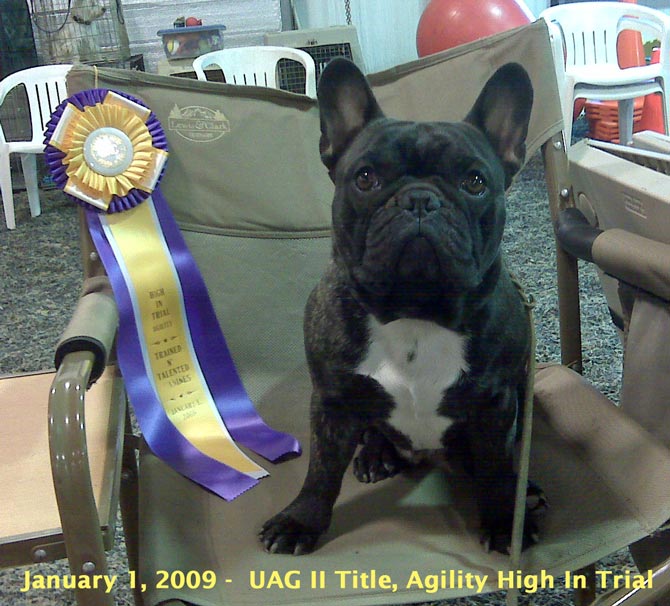 2008....
11 Titles in Rally and Agility in 2008
42 Placements, 19 First Places, 90 perfect Scores
20 MACH Double Qs and 367 MACH Points to become the
top ranked French Bulldog of all time in AKC agility!!
Some highlights of this year....
Soren earned his Front and Finish Excellence Agility Gold Award (FFX-AG) for completing all 6 AKC agility titles in under a year and his Front and Finish Excellence Agility Platinum Award (FFX-AP) for completing all 8 AKC agility titles in under 24 months
Earned his AX, MXJ (Masters Jumpers) and MX (Masters Agility) titles in AKC Agility, and his RAE (Rally Advanced Excellent), ARCHX (APDT Rally Champion Excellent) and APDT Level 3 (RL3) titles in Rally.
Soren is an All Star Top 10, placing 8th in Rally Excellent at the All Star Tournament in York PA the first weekend in August.
#1 French Bulldog to qualify and Top French Bulldog for the 2008 AKC Agility Invitational.
#1 French Bulldog in AKC Rally Combined (Exc B and Adv B) for 2008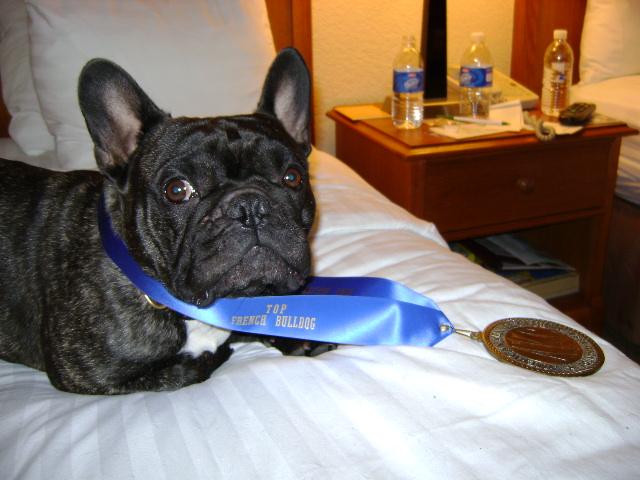 Soren with his Top French Bulldog Parent Club Medallion at the 2008 AKC Agility Invitational in Long Beach CA

2007....
21 Titles in 2007!!! 62 Placements, 30 First Places, 33 Perfect Scores!!!
Plus 5 MXJ legs and 20 MACH Points
#6 Ranked Frenchie of all time and #2 Ranked Frenchie for 2007 in AKC Agility in his first year training and competing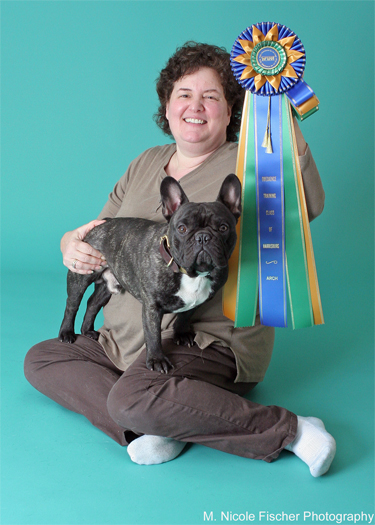 Soren finished his APDT Rally Championship title on Nov 25, 2007 with a perfect score
#1 Ranked Frenchie in APDT Rally for 2007, #15 Ranked All Breed in ARCH division, #68 Ranked All Breed overall (Top 5% of all dogs doing APDT in US and Canada)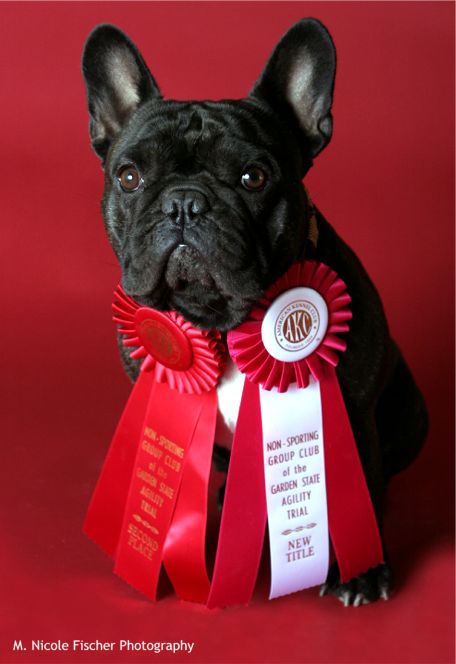 Soren earning his Novice FAST Agility title on Dec 1, 2007

Soren winning a 1st Place in AKC Rally Advanced
Soren made the 2007 Front and Finish Rankings in both Agility and Rally! He made the rankings in 14 different categories! And he was the Number 1 Frenchie in Open Standard, Open Jumpers, Exc A Standard, Exc A Jumpers (and Number 2 in Novice Standard and Novice Jumpers). In Rally, he made the Top 10 Non-Sporting Group rankings in both Rally Excellent A and Rally Advanced A.