Home | Up | EZPZ | GP | Spenser | Bryce | Ziti | Farron | Flynn | Sagan | Fallon | Zena | Qu | Audra | Bette's Closet | F'Lee-lets | Soren

GP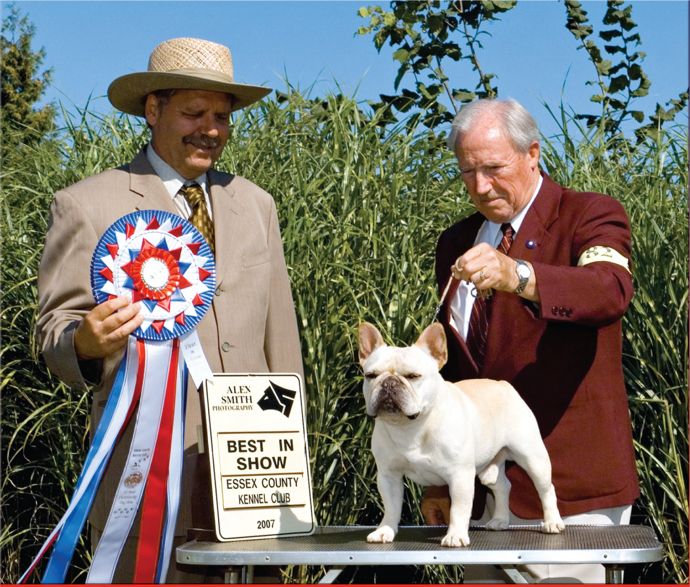 GP earning a Best In Show
AM & CAN CH. Jackpot! I'M THE BOSS of JustUs


GP earned many Best In Show and Best In Specialty wins before retiring to the life of leisure.
Soon tiring of lounging in the grass and playing with his babies, he packed his Frenchie duffel bag and headed to Canada, to spend some time with Bob and Sam Lowes.
Never one to go slow, GP achieved his Canadian Championship in short order. He then went into the "Specials" ring, placing in many Groups and then winning a Best in Show in Canada!


GP has done everything we have asked of him and much much more!! After returning from his time in Canada with the Lowes, GP came back to the US and finished his AKC Rally Novice title. Here he is earning his second leg and placing at the Frenchie Nationals in 2006!!

GP Placing in Rally Novice at the Frenchie Nationals in 2006
GP has passed his good looks and winning ability to his offspring, having Best in Show and Best in Specialty Show kids!
Fallon and Bryce, out of the GP- Rosie litter, were both multiple Group winners, and Fallon went on to a Best in Show also!! Fallon also won a BISS at the Dallas Fort Worth French Bulldog club 2 years after her Dad, which put her name on the trophy right next to his!